Drop Off Hours & Locations:
To keep our youth safe and protect their privacy, please don't bring donations to our youth shelters! Instead, bring them to our administrative office in Corvallis or our Youth Service Center in Albany during our Open Hours.
Corvallis:
Every Tuesday & Wednesday 10am-1pm
Mission Central (225 SW 4th St)
Albany:
Every Thursday 10am-1pm
Youth Service Center (960 SW Queen Ave)
Questions? Need to schedule a donation at a better time?
Contact Ben Martens / 541-760-5825 / ben.martens@jacksonstreet.org
COMMUNITY DRIVE IDEAS & NEEDS:
Every year many groups and individuals spearhead projects that support youth in need. Thank you for joining this team!
These needed items are organized by category so they can easily be turned into a community drives or fundraisers with your friends, neighbors, or coworkers.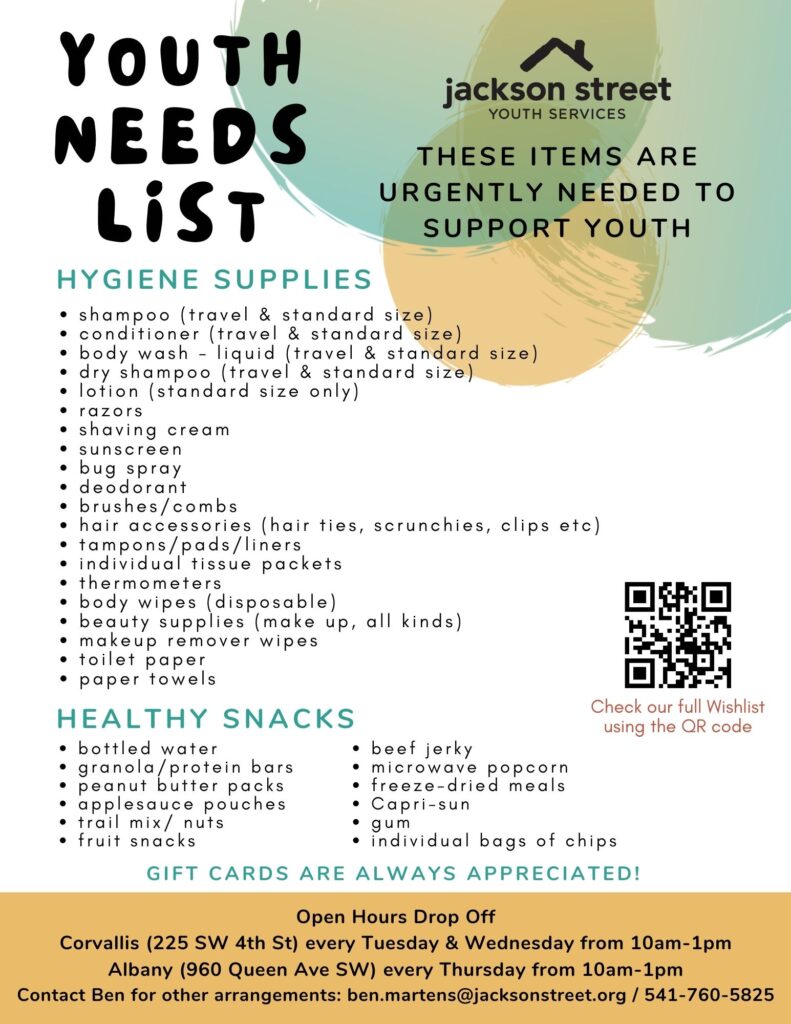 Clothing Needs:
Our Youth Ambassadors have finally gotten through and washed the huge amount of donated clothing! We are overstocked on most clothing items (especially socks!) and are only accepting the clothing below, which will help fill needed gaps that will allow us to be more inclusive for all our youth.
Men's EVERYTHING: jeans/pants, athletic clothes, comfort clothes, nice shirts—all sizes, especially L, XL, and XXL. 
Adult size shoes both men's and women's, especially athletic shoes and slides/slip on shoes.
Women's jeans, all sizes
Please be mindful that *youth* wear these items. Donate all items during our open hours, listed above!
PROGRAM WISHLIST:
Click the icon to the left
Please make sure items are sent to Kendra Phillips-Neal at 1240 SE 7th Ave Albany, OR 97321. They will be distributed to the correct program from there!
This gives us the flexibility of purchasing exactly with the youth in our programs need, including the staff support that is vital to their success!