24/7 Shelters prevent homelessness by providing support to unaccompanied youth, and respite to families in crisis — mediating and reunifying youth with their families whenever it is safe and appropriate. With our Corvallis shelter re-opening this summer, there will be 28 beds available in our region for youth experiencing or at-risk of homelessness.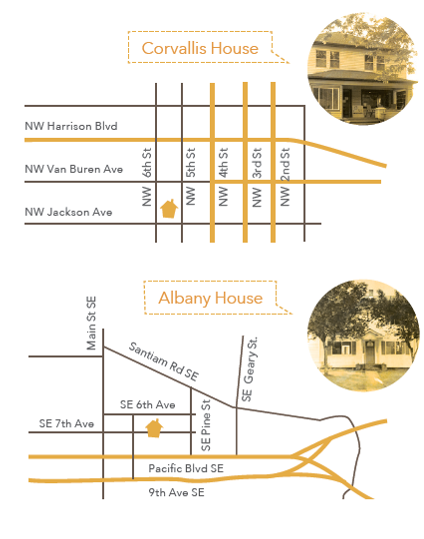 Corvallis House: 555 NW Jackson Ave
Albany House: 1240 SE 7th Ave
Shelter Services Summary
24-hour supervision in a safe, stable environment
Healthy meals and snacks
Hygiene products, clothing & shoes
Medical care and other service referrals
Individual case management & skills coaching
Education support and activities
Access to a Mental Health Therapist
Access to family mediation, Mentoring, and Aftercare support
Workshops on budgeting/cooking/finding housing
Connections with positive role-models
What's a typical day at shelter look like?
Our 24/7 Shelters in Albany and Corvallis are safe, structured environments for youth ages 10-17. Spending time at the shelter starts with an "intake" where staff begin learning what kinds of support the youth and/or family need, complete necessary paperwork, and explain the program guidelines. The structured environment of the shelter helps everyone be safe and successful with their individual goals.
During a typical day, a youth attends school, and staff help manage scheduling for other necessary appointments, including program components like case management, mental health, family mediation or specialized skills training. Together, youth and staff manage the house and learn important "life skills" like cooking, laundry, and healthy conversations. Our Positive Youth Development program incorporates volunteers and community partners in special extracurriculars like recreation, music, and art. Volunteers also help with study hall.  
Every story is different but youth typically stay between 72-hours and 3 weeks in our program, working on family reunification. However, there is not a time limit for unaccompanied youth needing additional support who continue to follow program guidelines and thrive in shelter.
Eligibility
This program serves youth between the ages of 10-17. Initial approval is for 72 hours but may be extended as long as needed and appropriate for achieving safety and stability. This is a sober program.
See our FAQs for more details about the shelter program.
Contact us 24/7 with questions or to get help!
Corvallis House: 541-754-2404 ext. 1
Albany House: 541-220-2950 ext. 1