24/7 Shelters prevent homelessness by providing respite to families in crisis — mediating and reunifying youth with their families whenever it is safe and appropriate. Youth who have been abused, neglected, or rejected by their families and have experienced trauma either at home or while being on the street, can address their well-being and learn to trust adults again.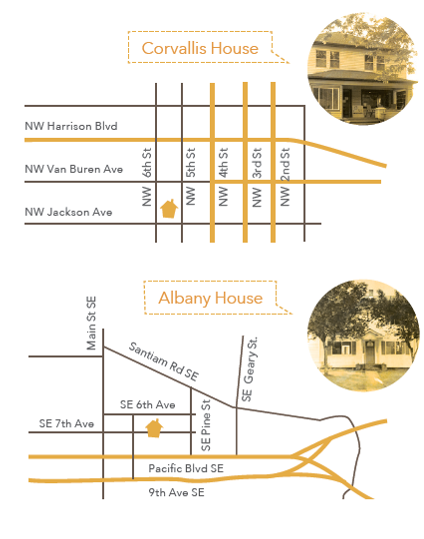 Corvallis House: 555 NW Jackson Ave
Albany House: 1240 SE 7th Ave
What is it?
Shelters provide youth who are runaway, homeless, and at-risk a safe, structured environment where they can work toward stability and improving their well-being. It operates like a highly organized family home with many children. After the intake process, during which rules and policies are explained, youth follow a daily schedule: they attend school or receive tutoring and participate in study time at the shelter, help staff make meals (dinner is eaten together) and clean up, do their own laundry and participate in other chores, have "free time" when they can play approved video games, read, play music, etc. Within shelter, there are 2 different program tracks:
Emergency Shelter – These stays range from a few hours up to 21 days. Case management involves creating a plan to reunite the youth with the family (if appropriate).
Transitional Shelter – This program uses the same facility but is for youth who cannot return home. It encourages self-sufficiency, giving youth opportunities to develop leadership and life skills, and to get involved in their communities while living in a safe, stable place.
Eligibility
Youth between the ages of 10-17, 16 and under must have legal guardian permission. Initial approval is for 72 hours but may be extended as long as needed and appropriate for achieving safety and stability. No drugs or alcohol are allowed.
What do youth get while in services?
Safe, stable environment
24-hour supervision
Healthy meals and snacks
Hygiene products
Clothing/shoes
Skills-coaching
Medical care and other services referrals
Individual case management
Workshops on budgeting/cooking/finding housing
Connections with positive role-models
How do youth access/how do partners refer?
Corvallis House: 541-754-2404
Albany House: 541-220-2950